If you know a Veteran, please forward this issue to them (you can sign up for my mission reports here). There are some important updates, resources and information they can use.
In this Update:
Remembering Our Military Veterans on Veterans Day
DMVA Virtual Town Hall: NOVEMBER 2, 2022 – Honoring Veterans for Their Service and Sacrifice
The SITREP: Veterans Get 8.7% Cost-of-Living Boost
"Making $ense of Finance" Veterans' Benefits Event
VA Life Insurance and Service-Disabled Veterans Life Insurance: What is the Difference?
Simplifying the Post-9/11 G.I. Bill Application Process
My Recommended Read for Veterans in the Month of November
Vet Centers
---
Remembering Our Military Veterans on Veterans Day
On Thursday, Nov. 11, we will honor all Americans who have served.
In November 1919, President Woodrow Wilson proclaimed November 11 as the first commemoration of Armistice Day.
The day was chosen because a year earlier, an armistice, or temporary cessation of hostilities, between the Allied nations and Germany went into effect on the eleventh hour of the eleventh day of the eleventh month, effectively ending World War I.
The original concept for the celebration was for a day observed with parades and public meetings and a brief suspension of business beginning at 11:00 a.m.
In 1938, Armistice Day – Nov. 11 – was recognized, in federal statute, as a legal holiday.
Up until the end of World War II, the holiday only honored veterans of World War I. But in 1954, Congress amended the statute creating the federal holiday by striking out the word "Armistice" and inserting the word "Veterans," making Nov. 11 a day to honor all American war veterans.
President Dwight D. Eisenhower issued the first "Veterans Day Proclamation" on Oct. 8, 1954.
According to the U.S. Census Bureau's 2021 American Community Survey, there are an estimated 641,525 veterans in Pennsylvania (6.2% of the overall population), of which 37.5% are Vietnam era veterans, 18.4% are Gulf War (9/2001 or later) veterans, 18.3% are Gulf War (8/1990 to 8/2001) veterans, 6.6% are Korean War veterans and 1.5% are World War II veterans. More than 92% of Pennsylvania's veterans are men and 56% are 65 years of age or older.
DMVA Virtual Town Hall: NOVEMBER 2, 2022 – Honoring Veterans for Their Service and Sacrifice
The Pennsylvania Department of Military and Veterans Affairs (DMVA) will host the fifth and final virtual Veteran Town Hall of the year on Wednesday, Nov. 2, 2022, from 6 p.m. to 7:30 p.m.
The town hall will focus on honoring veterans for their service and sacrifice.
Attendees can participate through Microsoft Teams – you can register for the event here. Participants will have the opportunity to ask questions of the presenters live during the program through the chat feature.
If you are unable to participate, but would like to view a recording after the event is held, the recording, as well as the recordings of the other 2022 Virtual Veteran Town Hall sessions, can be found here.
The SITREP: Veterans Get 8.7% Cost-of-Living Boost
Veterans will receive an 8.7% cost-of-living increase in their disability benefits starting in December, the largest increase in 42 years, federal officials announced last month.
The increase is due to the rising cost of inflation throughout the last year.
More information about the boost can be found here (on the VA's SITREP podcast) and here (an article published by MilitaryTimes.com.
"Making $ense of Finance" Veterans' Benefits Event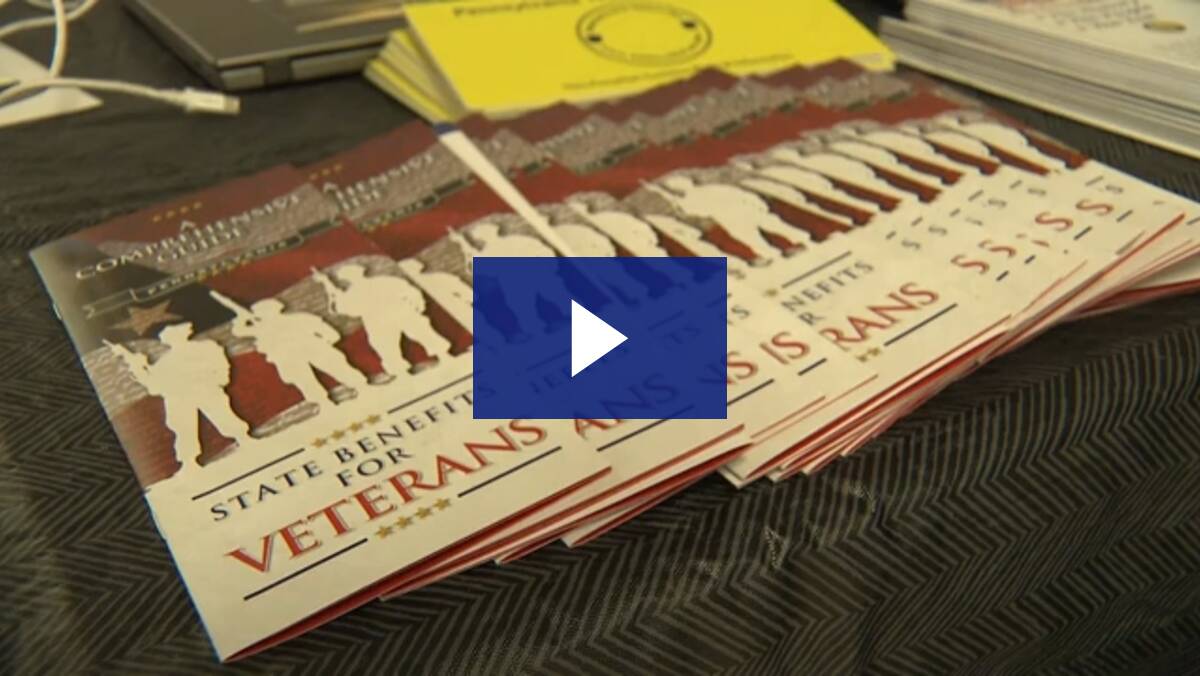 A "Making $ense of Finance" veterans' benefits was held last month in Port Allegheny, McKean County.
Sponsored by members of the PA Military Finance Alliance, the free event for veterans and their families offered veterans and their families help to strengthen their financial readiness through a series of noncommercial financial education workshops.
The many systems of veterans benefits and services can be overwhelming, so engaging and communicating with veterans and their families about what's available to them can help them navigate what can be daunting processes. Additionally, our veterans have always been targets of scammers, and with the enactment of the PACT Act, there's been an increase in scams focusing on veterans; anything we can do to educate and prepare veterans and their families will help reduce the risk to the benefits earned in service to our nation.
VA Life Insurance and Service-Disabled Veterans Life Insurance: What is the Difference?
Several important changes are coming to for life insurance programs run by the U.S. Department of Veteran Affairs (VA).
Veterans Affairs Life Insurance (VALife) is launching on Jan. 1, 2023, as a new guaranteed acceptance whole life insurance program for service-connected veterans.
The VA's current offering for service-connected veterans—Service-Disabled Veterans Life Insurance (S-DVI)—closes to new enrollment after Dec. 31, 2022. Veterans currently enrolled in S-DVI may keep their coverage or switch to VALife.
While both VALife and S-DVI cover veterans with any level of service-connected disability, there are key program differences to consider before deciding which program is right for you. You can learn more about those difference here.
Simplifying the Post-9/11 G.I. Bill application process
The VA has announced that due to updates it has made this summer to the application process, veterans and service members eligible to apply for and receive Post-9/11 G.I. Bill benefits can now receive a decision within minutes.
More information about the simplified process can be found here.
My Recommended Read for Veterans in the Month of October
In A Greater Freedom, Stories of Faith from Operation Iraqi Freedom, Lt. Col. Oliver North and Sara Horn reflect on the stories of the faith of our soldiers, sailors, airmen and marines on the front lines of Iraq.
As he notes regarding the lack of reporting by the media on this aspect during the conflict; "It's an interesting omission from most of the reports coming out of Operation Iraqi Freedom. None of us who were embedded for months with these remarkable young soldiers, sailors, airmen and Marines could be unaware of it. Chaplains, chapel services, and Bible studies were—and are— much in evidence among all the units serving in this new war on terror. So, too, are the daily acts of Christian charity and compassion that are part and parcel of everyday activity for these young Americans. Yet these most fundamental and visible manifestations of Christian faith in the day-to-day lives of these warriors have largely escaped mention in the U.S. media."
As an Iraq War veteran, I can attest to those services and the acts of charity we provided to local Iraqi people.
Lt. Col North stated, and I concur, that "perhaps the most impressive of all is the effect these young Christians are having on others whose lives they touch—overseas and here at home. Their stories are inspirational— in life and even in death."
This book is replete with such stories and will inspire us all to greater purpose in service to a Greater God.
What are Vet Centers?
I've been asked this question by a number of my fellow vets that question and feel it's important to provide an answer that those who haven't reached out yet might have.
VA Vet Centers provide free and confidential readjustment counseling for War-Zone Veterans and their families, World War II to the current Global War on Terror.
Vet Centers are small, non-medical, counseling centers conveniently located in our region. They're staffed by highly trained counselors and team members dedicated to seeing you through the challenges that come with managing life during and after the military.
Our region is served by the DuBois Vet Center, which is one of 12 Vet Centers in Pennsylvania and over 300 across the country. Whether you come in for one-on-one counseling or to participate in a group session, at Vet Centers you can form social connections, try new things, and build a support system with people who understand you and want to help you succeed. The Dubois Vet Center' website is designed to provide veterans, family members, and community partners the ability to see what services the center offers, as well as the center's Community Access Points with a picture of the entrance so first time visitors have a frame of reference to help guide them in.
From my time in the State House through my current position, I've had a strong relationship with the Dubois Vet Center. They have helped me help many of my fellow vets.
Two Recreational Therapy Groups Available at the Dubois Vet Center
As part of a national competition, the DuBois Vet Center was approved for initial funding for two recreational therapy groups.
One of the groups is an introduction to fly tying for fly fishing, with one of the center's counselors being an avid fly tyer and fisherman. The other group is a no sew blanket group, which the center hopes will generate interest from women veterans, but the group is open to anyone who would like to join.
The groups will be held at the Vet Center with approximately 4 cohorts to run quarterly with 6 vets in each cohort. The center says it hopes to grow these groups and potentially be able to have them at the center's Community Access Points (CAPs) in McKean, Centre and Blair counties, with the possibility of adding more recreational therapy groups in the future.
The center noted the initial funding will help them launch the groups, but they will be actively trying to obtain additional funding they can expand on them.
Who is eligible to receive services at Vet Centers?
Vet Center services are available to Veterans at no cost, regardless of discharge character, and without the need to be enrolled in VA health care or having a service-connected disability. If you are a Veteran or service member, including members of the National Guard and Reserve, you can access Vet Center services if you:
Served on active military duty in any combat theater or area of hostility.
Experienced military sexual trauma (regardless of gender or service era.)
Provided mortuary services or direct emergent medical care to treat the casualties of war while serving on active military duty.
Performed as a member of an unmanned aerial vehicle crew that provided direct support to operations in a combat theater or area of hostility.
Accessed care at a Vet Center prior to January 2, 2013 as a Vietnam-Era Veteran.
Served on active military duty in response to a national emergency or major disaster declared by the president, or under orders of the governor or chief executive of a state in response to a disaster or civil disorder in that state.
Are a current or former member of the Coast Guard who participated in a drug interdiction operation, regardless of the location.
Contacting your local Vet Center
Even if you are unsure if you meet the criteria to receive services from a Vet Center, please contact a center. From personal experience I can tell you that, if the center can't help you, they'll find someone who will.
Center services are also available to family members when their participation would support the growth and goals of the Veteran or active-duty service member. If you consider them family, so does your local center. Bereavement services are also available to family members of Veterans who were receiving Vet Center services at the time of the Veteran's death, and to the families of service members who died while serving on active duty.
The DuBois Vet Center, located at 100 Meadow Lane, Suite 8, DuBois, PA 15801, can be contacted at 814-372-2095 or toll free 24/7 at 1-877-WAR-VETS (927-8387).
The DuBois Vet Center recently announced counseling and referral services are now being provided at the State College American Legion Post 245, in addition to the many services they offer at their locations in DuBois, Altoona, Bradford, Penn State-DuBois, Smethport and their mobile Vet Center.
The other Vet Center locations in Pennsylvania are:
Bucks County Vet Center, 2 Canals End Road, Suite 201B, Bristol, PA 19007, 215-823-4590
Erie Vet Center, 240 West 11th Street, Suite 105, Erie, PA 16501, 814-453-7955
Harrisburg Vet Center, 1500 N. Second Street, Harrisburg, PA 17102, 717-782-3954
Lancaster Vet Center, 1817 Olde Homestead Lane, Suite 207, Lancaster, PA 17601, 717-283-0735
Norristown Vet Center, 320 East Johnson Highway, Suite 201, Norristown, PA 19401, 215-823-5245
City Center Philadelphia Vet Center, 801 Arch Street, Suite 502, Philadelphia, PA 19107, 215-627-0238
Northeast Philadelphia Vet Center, 101 East Olney Avenue, Philadelphia, PA 19120, 215-924-4670
Pittsburgh Vet Center, 2500 Baldwick Road, Suite 15, Pittsburgh, PA 15205, 412-920-1765
Scranton Vet Center, 1002 Pittston Avenue, Scranton, PA 18505, 570-344-2676
White Oak Vet Center, 2001 Lincoln Way, Suite 280, White Oak, PA 15131, 412-678-7704
Williamsport Vet Center, 49 East Fourth Street, Suite 104, Williamsport, PA 17701, 570-327-5281
For more information, please visit www.vetcenter.va.gov