In this Update:
2021-22 Legislative Session: Bills Passed to Aid Families and Children
25th District Local Law Enforcement Agencies Receive Grants
New Agreement Seeks to Boost Our Region's Nursing Programs
Information Available About FCC National Broadband Map and Challenge Process
Keystone Communities Program Grants Awarded to Two 25th Senatorial District Communities
Veterans' Trust Fund Grant Opportunities Available
Career and Technical Education Equipment Grants Awarded in 25th Senatorial Districts
Winter Storm Safety Tips
Protecting Pets from Cold Weather
'Tis the Season for Bogus Charity Appeals
Substance Use Disorder Crisis Stabilization Grants
The Capitol Gets into the Holiday Spirit
Merry Christmas
---
2021-22 Legislative Session: Bills Passed to Aid Families and Children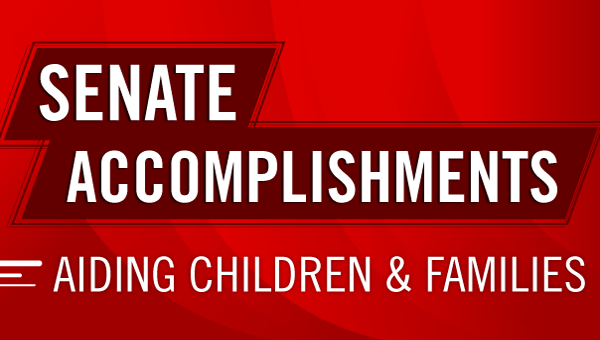 From cracking down on crimes against children and care-dependent Pennsylvanians to supporting family caregivers and workers with disabilities, and more, we passed more than a dozen new laws this session to aid children and families.
Act 53 of 2021 increases the penalties for those convicted of child pornography and permits the Pennsylvania Commission on Sentencing to create a sentencing enhancement for those convicted of the sexual abuse of children when the victim is known to the defendant.
Act 69 of 2021 allows individuals with disabilities to increase earnings under a new category of Medical Assistance for Workers with Disabilities entitled Workers with Job Success.
Act 42 of 2022 designates the locations where smoke detectors must be installed in child care facilities and requires that they are interconnected so that if one is triggered, they all go off.
Act 112 of 2022 allows voluntary contributions to the Children's Trust Fund when electronically renewing a driver's license or identification card and when renewing a vehicle registration.
You can find a complete list here.
25th District Local Law Enforcement Agencies Receive Grants
Four 25th Senatorial District local law enforcement agencies were awarded grants by the Pennsylvania Commission on Crime and Delinquency (PCCD) through the Local Law Enforcement Support Grant Program.
These grants were created by the General Assembly as part of the state budget approved in July. The funding through PCCD can be used for many different projects or purchases to enhance public safety, such as communications system upgrades, body-worn or in-car cameras, recruitment and retention, training, surveillance cameras, automated license plate readers and more.
Grant recipients included:
State College Borough, Centre County ($2,977,553) for a records management system (RMS) that is compliant with the National Incident-Based Reporting System (NIBRS); an EvidenceOnQ+ Evidence Management System; Zebra Handheld Scanners; a Zebra Thermal Transfer Desktop Printer; a Panasonic Toughbook Mobile Command System; Civilian Response Team members; peer-to-peer training; a motivational speaker; and recruitment materials.
Lock Haven City, Clinton County ($772,476) for portable and mobile radios along with a base station.
Ridgway Borough, Elk County ($111,532) for body-worn cameras and related peripherals.
Saint Marys City, Elk County ($158,819) for body-worn cameras and related expenses; Defensive Tactics instructor training; and overtime for officers to attend Use of Force training.
PCCD approved grants to 197 law enforcement agencies totaling $135 million statewide.
New Agreement Seeks to Boost Our Region's Nursing Programs
Earlier this month, Penn Highlands Healthcare announced a new partnership with Central Pennsylvania Institute of Science and Technology (CPI) that will provide tuition, clinical rotations and employment agreements for students entering CPI's licensed practical nursing program.
CPI is the vocational-technical school serving the career and technical needs of high school students in the Bald Eagle Area, Bellefonte Area, Penns Valley Area and State College School districts. Additionally, over 1,300 adult learners annually receive training to upgrade their current skills, learn new skills, or make a career change to better their quality of life.
Penn Highlands Healthcare consists of nine hospitals that have been serving the residents of Pennsylvania as non-profit, community organizations for more than 100 years: Penn Highlands Brookville, Penn Highlands Clearfield, A Campus of Penn Highlands DuBois, Penn Highlands Connellsville, Penn Highlands DuBois, Penn Highlands Elk, Penn Highlands Huntingdon, Penn Highlands Mon Valley, Penn Highlands Tyrone and Penn Highlands State College, opening 2024.
As reported by StateCollege.com, under the new agreement, Penn Highlands will provide up to $20,000 in "educational funding" for students attending the Pleasant Gap-based school's one-year program. In exchange, enrolled nursing students will sign an employment package for a Penn Highlands job that includes a full-time benefits package, according to a press release.
Upon completing the program, CPI nursing graduates will work at one of Penn Highlands' hospitals, outpatient facilities and physician practices across the health care system, which spreads throughout 26 Pennsylvania counties.
Information Available About FCC National Broadband Map and Challenge Process

The Federal Communications Commission (FCC) National Broadband Map displays locations – a home or business – where internet services are and are not available across the country, as reported by internet service providers.
By clicking on the map, you can see a listing of the broadband providers that reported offering service to your location as well as the speed and technology reported by each provider. This allows consumers and other stakeholders to dispute/challenge information shown on the map that they believe is inaccurate.
I encourage everyone to check out the map and, if there is incorrect data on the map, to challenge that data. The number of unserved locations in Pennsylvania on the map is an important factor in determining how much funding the Commonwealth will receives for broadband projects through the Broadband Equity, Access and Deployment program.
Hundreds of millions of dollars are at stake, and by challenging locations that are incorrectly listed as receiving service through Jan. 13, 2023, you help make sure we get our fair share of this funding and can reach as many people as possible. Challenges after Jan. 13 will still be valuable as the maps will guide the Pennsylvania Broadband Development Authority and internet service providers as they identify locations in need of service and eligible for future broadband projects.
You may find more information and several helpful resources here.
Keystone Communities Program Grants Awarded to Two 25th Senatorial District Communities
Earlier this week, nearly $8 million in Keystone Communities Program grants were approved for 51 projects in 30 counties across Pennsylvania.
The Keystone Communities Program supports towns and cities with initiatives that work to create growth and stability while encouraging partnerships between the public and private sectors, all with the goal of building stronger communities, attracting new residents and businesses, and boosting the local economies.
Of the 51 projects receiving grants, two are in the 25th Senatorial District:
Downtown Lewistown, Inc (McKean County) received $50,000 for the Downtown Lewistown Facade Improvement Program, which is focused on improving existing façades in the core downtown district as well as a commercially zoned area along East Third and Valley Streets.
The City of Lock Haven (Clinton County) received $25,000 for the Enhance the Haven Façade Grant Program, which is focused on improving existing façades in the central business district.
Veterans' Trust Fund Grant Opportunities Available
The 2022-23 Veterans' Trust Fund (VTF) is accepting grant applications for programs and services benefiting Pennsylvania veterans, with grant application due no later than 2 p.m. on Thursday, Jan. 19, 2023.
The Pennsylvania Department of Military and Veterans Affairs (DMVA) will award VTF grants to non-profit organizations, veteran service organizations and county directors of veterans affairs across the state.
Grant funding is available for new, innovative or expanded programs or services operated by the county directors of veterans affairs or the Pennsylvania Association of County Directors of Veterans Affairs. The areas of emphasis for applicants in this category are veterans outreach, transportation services and homelessness. Grant funding is also available to veteran service organizations with 501(c)(19) status and non-profit organizations with a mission of serving Pennsylvania veterans granted 501(c)(3) status under the Internal Revenue Code – funding priorities for applicants in this category are transportation services, behavioral health initiatives, homelessness, employment and education.
Recipients of the last round of VTF funding were recently announced. In the 25th Senatorial District, Military Veterans Outdoors, Inc. (Brookville, Jefferson County) received $27,000 for rehabilitative recreation services to veterans, and Artpost Awareness Inc. (Lock Haven, Clinton County) received $2,500 to provide therapeutic services to veterans.
To learn more about the VTF and the grant application process, visit VTF website or follow DMVA on Facebook at www.facebook.com/padmva.
Career and Technical Education Equipment Grants Awarded in 25th Senatorial Districts
Three competitive grants were awarded in the 25th Senatorial District for the purchase of new equipment aligned to training students in high-demand occupations.
Recipients of these grants are:
The Central PA Institute of Science & Technology, Centre County ($50,000)
State College Area School District ($8,900)
Jefferson County-DuBois Area Vocational-Technical School ($7,500)
Grant recipients are encouraged to use the funding to enhance and expand their learning programs to help students excel in their chosen fields.
Winter Storm Safety Tips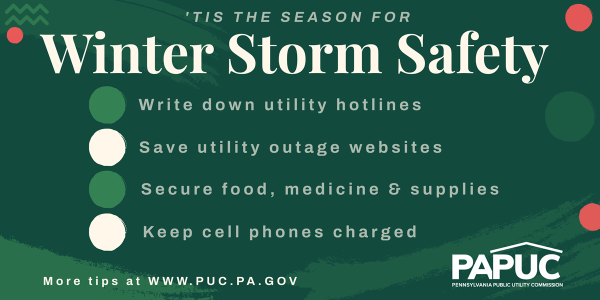 Knowing your utility hotlines is one of the timely tips offered by the Pennsylvania Public Utility Commission on storm preparation, power outages and other winter challenges.
Know Your Utility Hotlines: Write down, print or save toll-free outage hotlines for your electric utility and/or your natural gas utility, which are listed on your monthly bills and posted on the PUC website.
Save Utility Website Address: Your utility's outage reporting system can provide updates on repair and restoration efforts. Bookmark these electric utility outage sites and natural gas company websites.
Secure Supplies: Keep necessary food, medicine and other supplies on hand, including batteries for flashlights.
Keep Your Cell Phone Charged: A well-charged phone will keep you in contact with your utility, other emergency services and family members during any power outage.
Find more advice here on storm prep and what to do when the power goes out.
Protecting Pets from Cold Weather
When winter weather hits and the temperature drops, we need to make sure our four-footed family members stay safe and warm by following some simple guidelines, as provided by the Human Society of the United States:
Keep pets sheltered; protect outdoor animals.
Bundle up your animals – particularly short-haired pets – when you do go outside; remember to wipe down their paws of salt and other chemicals used to melt snow and ice.
Remove common poisons, such as antifreeze, from the reach of pets.
Speak out – if you encounter a pet left in the cold, politely let the owner know you're concerned.
'Tis the Season for Bogus Charity Appeals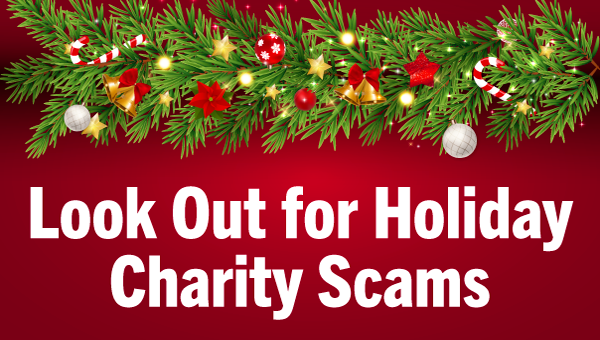 With many people planning charitable giving this time of year, the Pennsylvania Department of State offers tips and best practices to help consumers make sure their contributions are going to legitimate charitable organizations and causes.
Here are some red flags of potential charity scams:
Similar sounding name: Scammers often use names that sound similar to legitimate charities to intentionally create confusion.
High-pressure solicitation: Fraudsters will try to force a hasty decision by turning up the pressure. They may cold call, identifying you as a previous contributor, and asking for your renewed support or to update your credit card information.
Donation by wire transfer: Legitimate charities will not ask you to make payment via money order or wire transfer. If you are being solicited for a donation and are asked to pay by these means, hang up immediately.
Donation by gift card: A charity may ask for donations of gift cards, such as from a grocery store, to supply to someone in need, but you should never read the information from a gift card over the phone or provide it via email. After verifying the legitimacy of the charity, take any physical gift card donation directly to the location of the charity and request documentation of your contribution.
You can visit the online charities database to verify that an organization is registered to solicit in Pennsylvania and to see its basic financial information about expenses for program services, fundraising and management.
Substance Use Disorder Crisis Stabilization Grants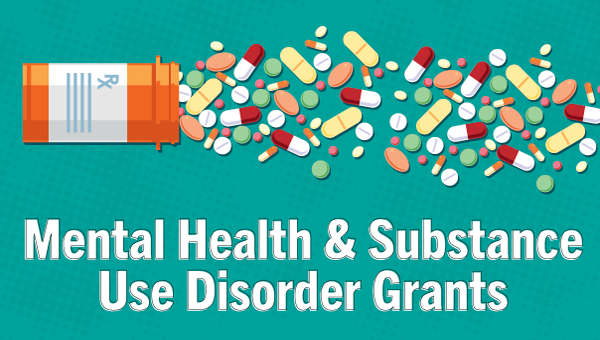 Counties have until Dec. 28 to apply for state grants to establish or expand crisis stabilization services for individuals with mental health and substance use disorders.
Grants of up to $3 million will be awarded to eligible single county authorities and can be applied toward a range of activities including construction and building infrastructure, staffing and programming.
The funding will help expand or establish services to provide a much-needed component to the continuum of care, reduce the burden on first responders, law enforcement and emergency departments, and provide timely care to individuals in need.
The Capitol Gets into the Holiday Spirit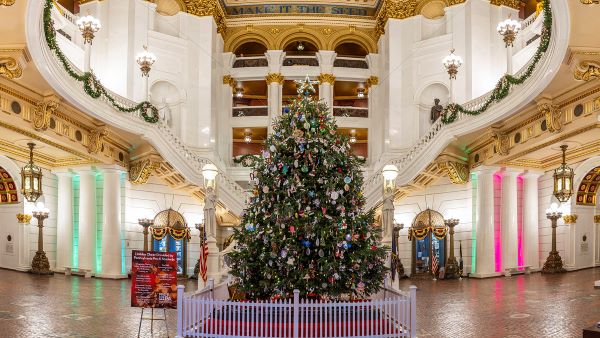 The Capitol Christmas Tree is decorated in all its glory. The 20-foot Douglas fir from Crystal Spring Tree Farm in Lehighton, Carbon County is adorned with more than 900 LED lights and more than 700 handmade ornaments donated by students and seniors throughout the commonwealth.
In addition to the tree in the rotunda, there is also a 20-foot tree outside on the Capitol steps. The inside tree is lit daily from 8 a.m. to 8 p.m. and the outside tree is lit from 5 p.m. to midnight through Jan. 6. You can plan a visit to see it here.
Merry Christmas
I hope you have a merry Christmas filled with the warmth and fellowship of the holiday season.

For anyone who hasn't already signed up to receive my mission reports, you can get on the e-newsletter mailing list here.