In this Update:
State Tax Reform Helps PA Job Creators, Families
Free Webinar on Sweeping Business Tax Reform
Free DEP Brownfields Grant Webinar on Aug. 25
Contact My Offices About Lack of High-speed Internet Access
Chance to Win $20,000 to Launch a Business in Bradford
Financial Assistance for Eligible Children of Veterans
Tour of Bradford Regional Medical Center Olean General Hospital in Bradford, McKean County
Beat Sept. 1 College Tuition Hikes with PA 529
NPRC and Commonwealth University Sign Academic Agreement
Ginny Eppley Named McKean County Friend of The Fair
Nearly 440 Vehicles Available at Commonwealth Auction
---
State Tax Reform Helps PA Job Creators, Families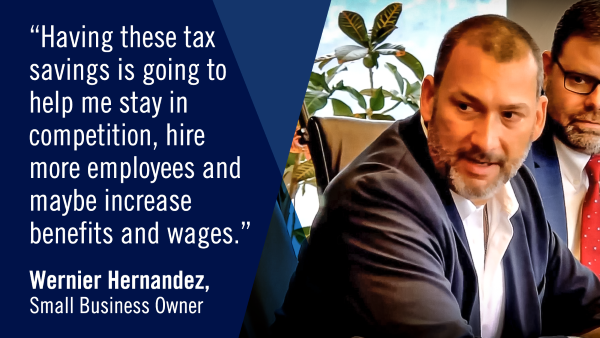 The Pennsylvania Independent Fiscal Office recently confirmed that real average hourly earnings – a measure of workers' pay adjusted for inflation – declined by 3.9% in June.
In addition, the massive, new spending bill enacted in Washington will end up forcing working-class Americans to pay billions of dollars in new taxes, according to the nonpartisan Congressional Budget Office.
The pressures on families and job creators, caused by reckless action at the federal level and outdated policy at the state level, are real and mounting.
Boosting wages and providing new income opportunities to Pennsylvanians are the reasons the General Assembly approved sweeping tax reform in July as part of the new state budget. Business operators big and small are telling us these changes will allow them to invest more money in their businesses and workers. Creating a climate for good-paying jobs is vital to supporting families and allowing healthy communities to flourish.
Free Webinar on Sweeping Business Tax Reform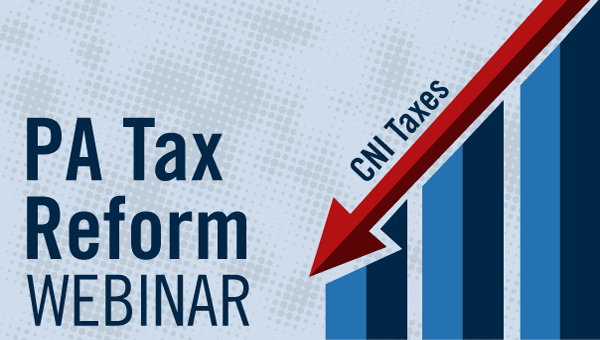 Tax reforms enacted by the General Assembly are a huge boost for job creators, and the Pennsylvania Chamber of Business and Industry is hosting a free webinar to explore the impact on your business. I'm encouraging our area business leaders to participate in the webinar to get an early start to take advantage of these reforms. It is my hope that you will be able to help your business, employees and communities through their application.
You'll learn details about what the changes mean for businesses of all sizes and be able to ask tax experts questions about various provisions in the tax package.
The webinar will take place Aug. 25 from 10 a.m. to noon. You can find more information and register here.
Free DEP Brownfields Grant Webinar on Aug. 25
The Pennsylvania Department of Environmental Protection's Land Recycling Program (LRP) will be hosting a free Brownfields Grant Webinar on Thursday, Aug. 25, 2022, from 10 a.m. to 11 a.m. This webinar is intended for developers and communities that may be new to brownfields and the various grants that can help fund assessments and cleanups.
We have some of these environmentally damaged areas in the 25th District that I and the communities would like to have cleaned up and put back into productive use. It's my hope that there will be people interested in taking an active role to accomplish that goal.
Attendees will receive a brief overview of brownfields properties and the Act 2 program followed by a description of potential brownfields grant opportunities. Participants will hear from experts from DEP, PA Department of Community and Economic Development and West Virginia University's Technical Assistance to Brownfield Communities Program, who will discuss the different state and federal brownfield grant options and how the recent influx of brownfields grant funding from the federal Infrastructure Investment and Jobs Act will impact these funding opportunities.
The LRP will host and additional webinar on Sept. 28, 2022, to provide detailed information about the guidelines and deadlines for the application process for these grants. It is intended for experienced brownfields professionals as well as those new to the concept so that all participants can acquire the knowledge and contacts they need to help navigate the processes of obtaining funding for brownfields projects within the commonwealth.
You can register here for the Aug. 25 webinar.
Contact My Offices About Lack of High-speed Internet Access
Access to high-speed broadband internet services remains a struggle for many within the commonwealth, especially those in rural areas.
One of the biggest issues with being able to deploy broadband across the state is trying to find accurate and reliable maps.
The Federal Communications Commission (FCC) has indicated their new maps will not be completed until the end of the year or the beginning of next year. There are many entities across Pennsylvania – from Penn State to individual counties – that have begun the process of creating their own maps for their own communities.
To assist with efforts to address broadband connectivity issues, a form has been created to allow legislative district offices to input the names, addresses and notes from constituents regarding their broadband access issues. This information will be provided to the Pennsylvania Broadband Development Authority as the state begins the process of distributing money to our most unserved and underserved communities.
I want to encourage everyone in the 25th Senatorial District to contact my offices if you have no access to high-speed internet at your homes or places of business. For this survey they are only dealing with those who have absolutely no internet capability so please do not contact the offices regarding coverage you already have that doesn't meet your expectations (such as cost or lack of internet provider options).
With your help, we can close our digital divide.
Chance to Win $20,000 to Launch a Business in Bradford
The Bradford Area Alliance, in Bradford, PA, is currently in the process of recruiting individuals to compete in the third annual Harvey L. Golubock Business Competition for a chance to win $20,000 in seed money to launch a business in Bradford.
The competition is part of a larger effort in re-invigorating the area's rich history of entrepreneurial spirit. That spirit is an outcome of Bradford's heritage as the birthplace of the U.S. domestic oil industry.
Given that long-standing history and the profound impact of our current energy sector, the tag line for the competition is "The Spark to Fuel Your Business" and the business competition has been named in honor of Harvey L. Golubock.
Golubock led the American Refining Group refinery to profitability after it was purchased from Witco Corp. in 1997. He also served as chairman of the board for Beacon Light Behavioral Health, co-chair of Bradford Area Alliance, on the executive committee of the advisory board and on the board of the University of Pittsburgh at Bradford, Bradford Hospital Foundation board, the board of the Penn Brad Oil Museum and chairman of the Energy Institute at Pitt-Bradford.
If you are interested, please submit your application as soon as possible using the online application found on the competition website. A two-to-three-page business plan outline must be submitted electronically no later than Friday, Sept. 9 at 5 p.m. All interested candidates should send their outline to carolyn@bradfordareaalliance.com. Candidates are encouraged to submit their outlines as early as possible.
For further details about the competition process, see the competition website.
Financial Assistance for Eligible Children of Veterans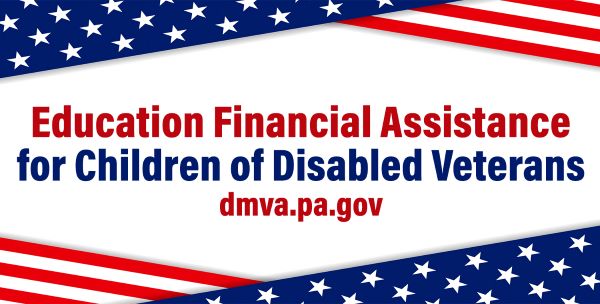 As the school year approaches, the Department of Military and Veterans Affairs and I wish to remind veterans with children that financial assistance is available to those attending post-high school education or training at an approved institution in the commonwealth through its Educational Gratuity Program.
The program supports children of honorably discharged veterans who have 100% service-connected disabilities and served during a period of war or armed conflict, or children of veterans who die or died in service during a period of war or armed conflict. To be eligible, a child of a veteran must be between the ages of 16 and 23, living within the Commonwealth of Pennsylvania five years prior to application and must attend a school within the commonwealth. All applicants must have a financial need.
Payments will not exceed $500 per term or semester per qualified child to each approved educational institution over a total of eight terms or semesters. For more information about the program's criteria, eligibility and needed documentation, go to Educational Gratuity Program.
Tour of Bradford Regional Medical Center Olean General Hospital in Bradford, McKean County
Yesterday, state Rep. Marty Causer and I had an opportunity to meet with staff at Bradford Regional Medical Center (BRMC) Olean General Hospital in Bradford, McKean County.
Concerns of the community, as well as those of the hospital, were discussed. Rep. Causer and I both share the same hope for longevity for the hospital and those they serve. Bradford Hospital isn't unique with all the challenges they face; many hospitals around the 25th Senatorial District and around the nation face similar issues.
We know there are federal and state regulations facing the hospitals that are causing financial difficulties. Rep. Causer and I are committed to monitoring those and attempting to learn which are necessary and which are not, with an eye to eliminating or modifying them as necessary. We also learned that Kaleida Health (the parent company of BRMC) has plans to bring or expand some of its services in the near future and we will continue to monitor these services.
Beat Sept. 1 College Tuition Hikes with PA 529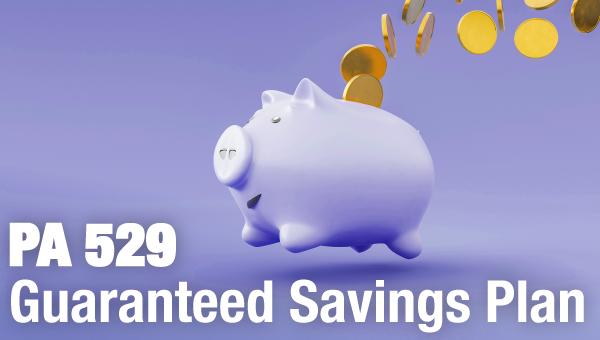 Families who contribute to their PA 529 Guaranteed Savings Plan (GSP) account by Aug. 31 can boost their savings by taking advantage of the fact that many college tuition credit rates are scheduled to increase Sept. 1. If you know of anyone sending their children off to college this year I encourage you forwarding this information on to them.
The PA 529 GSP program allows families to save for a future education at today's cost. Because the effect of tuition inflation is generally applied to PA 529 GSP accounts on Sept. 1, contributions made by Aug. 31 often receive an increase in value the very next day – and the earnings can be used as soon as the summer semester of the next calendar year. If used the following fall semester, two years of tuition inflation benefits would be available.
Before new PA 529 GSP credit rates take effect for the 2022-23 school year, families may compare PA 529 GSP credit rates at popular levels.
NPRC and Commonwealth University Sign Academic Agreement
I am happy to have learned Northern Pennsylvania Regional College (NPRC) and Commonwealth University (CU) (Bloomsburg, Lock Haven and Mansfield universities) last month signed a guaranteed transfer agreement that provides transferability of many NPRC credits to the integrated universities of Commonwealth University.
The agreement also includes guaranteed transfer opportunities for specific NPRC associate degrees directly into four CU bachelor's degree programs with no loss of credit for qualifying students: Associate of Arts in Liberal Studies into the Bachelor of Science in Interdisciplinary Studies; Associate of Arts in Social Sciences into the Bachelor of Science in Social Work; Associate of Science in Business Administration into the Bachelor of Science in Business Administration; and Associate of Science in Criminal Justice into the Bachelor of Science in Criminal Justice.
There are also scholarships available from CU for qualifying students. This is exciting news for NPRC and the students from District 25 and the northern tier of Pennsylvania.
NPRC President Susan Snelick said the agreement will not only provide opportunities and pathways for NPRC students to continue their educational journey, but also exemplifies the quality of the college's education offerings. She added that the recognition by the Commonwealth University is one of many steps in NPRC's long-term growth and the college looks forward to its partnership with Commonwealth University.
NPRC offers the flexibility and lower financial costs many prospective students are looking for when working through determining whether to obtain higher education. It makes the choice to pursue these educational opportunities easier while offering a quality start as evidenced by this agreement.
NPRC is giving and easier transition to those right out of high school as well as those looking for a second career or certifications which will help older people who want to continue contributing to their communities. It's a blessing to our region to have this resource available.
Ginny Eppley Named McKean County Friend of The Fair
The McKean County Fair is proud to present Ginny Eppley as our "Friend of the Fair Award" nominee for 2022. Ginny has been a Fair Board member for twelve years and currently serves as the Secretary of the McKean County Fair. She also serves on the Executive Committee of the Fair Association.
Ginny is married to Frank and has two daughters – Chris and Nicole. She has four grandchildren – Cameron and Alisha Pyscher and Seth and Evan Sanderson.
Ginny volunteers in the Fair office to help individuals who are making entries to the fair. She makes sure the 4H entries are all in order and meet the deadline. Ginny also helps at the horse shows held at the fairgrounds.
Prior to her retirement, she worked as the staff assistant for the Pennsylvania State University Extension Office. She also is an officer of the PM Saddle Club and helps with church activities.
When talking to her family, they will tell you Ginny enjoys helping others. She has helped many 4H members. Much of this happens because of her love of animals. Horses seem to take priority.
Nearly 440 Vehicles Available at Commonwealth Auction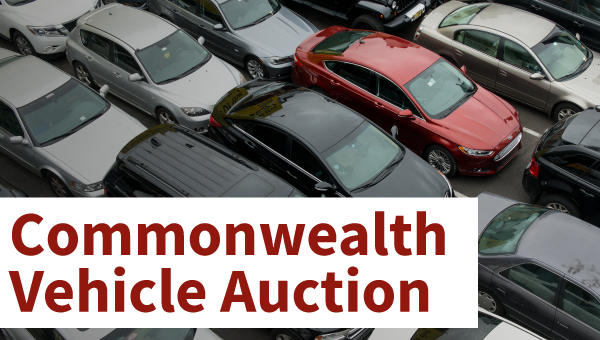 Nearly 440 used vehicles will be up for public purchase at the latest Commonwealth Vehicle Auction taking place on Tuesday, Aug. 23, at 10 a.m. at Manheim Keystone Pennsylvania, 488 Firehouse Road in Grantville, Dauphin County.
In-person preview of vehicles is open from this Thursday through Sunday, Aug. 21. Pre-registration is mandatory and must be completed on or before Sunday at 4 p.m.
This auction will feature several vehicles seized by state law enforcement agencies including: 2014 Chevrolet Cruze, 2014 Ford Taurus, 2013 Land Rover Range Rover, 2011 BMW X5, 2011 Chevrolet Traverse, 2011 Jaguar XF and more.
Other vehicles include a variety of 4-wheel drive SUVs, utility vehicles and pickup trucks from Chevrolet, Dodge, Ford, GMC and Jeep as well as front- and all-wheel drive sedans and mini-vans. Buyers must purchase with certified funds in the form of money order, cashier's check or certified check. No cash will be accepted.