In this update:
Wolf Administration Plan to Toll Interstate Bridges Halted by Court
Action on Pennsylvania's Overdose Epidemic is Needed
Celebrating William Penn and His Vision for Pennsylvania
Bills to Limit Exposure of Sexually Explicit Content in PA Schools Passed by Senate
Senate Votes to Protect Sports for PA Women and Girls
Bill to Improve Medical Care for Patients Approved by Senate
Legislation Boosting Safety of Child Care Facilities Set for Enactment
Increased Penalties for Hiring Unauthorized Workers Approved by Senate
Local Government Bills to Become Law
PA's Farmers Market Nutrition Program Provide Seniors, Families Access to Fresh, Local Produce
Have a Happy Independence Day
---
Wolf Administration Plan to Toll Interstate Bridges Halted by Court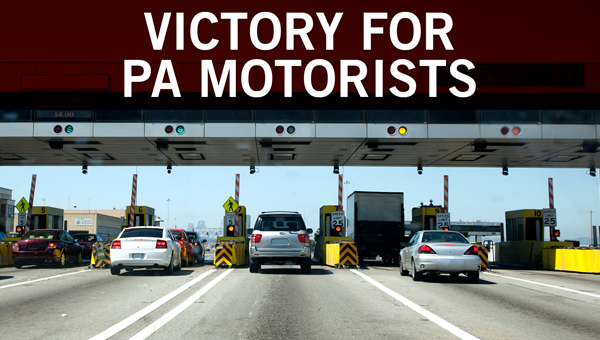 In a major win for motorists and communities near interstate highways, the Commonwealth Court of Pennsylvania issued a ruling blocking the Wolf Administration from moving forward with its plan to toll nine interstate bridges across the state, including one in the 25th District.
The decision follows a previous ruling temporarily halting the initiative, siding with a county and several municipalities that challenged the constitutionality of the plan to toll interstate bridges under the public-private partnership (P3) bridge program.
PennDOT attempted to move forward with tolling without approval from the General Assembly. The Senate passed Senate Bill 382 to require the P3 process to be more transparent while stopping the current initiative. Gov. Wolf vowed to veto the measure.
The new order voids the entire Major Bridge P3 Initiative, including the following bridges:
Action on Pennsylvania's Overdose Epidemic is Needed
Earlier this week, I joined fellow lawmakers, medical professionals, concerned parents and Pennsylvanians recovering from addiction to call for action to address our state's fentanyl and opioid overdose epidemic.
There were more than 100,000 fentanyl and opioid related deaths nationwide in 2021, a 15% increase from 2020. Pennsylvania now ranks third in the nation for overdose deaths. Heroin and opioid overdoses are the leading cause of accidental death in Pennsylvania, even more deadly than car accidents.
A colleague of mine, Sen. Doug Mastriano (R-33) has introduced Tyler's Law, Senate Bill 1295, to impose stricter penalties on drug dealers who peddle fentanyl resulting in fatal overdose. Those convicted would face a mandatory minimum of 25 years in prison. The bill is named after Tyler Shanafelter, who lived in Doug's district. Tyler died Oct. 10, 2020, after buying from a dealer what he thought was Percocet but was instead a deadly dose of fentanyl.
In addition to Tyler's Law, Doug is sponsoring Senate Bill 1152, which would improve overdose mapping and response by requiring law enforcement and emergency medical services agencies to report all overdose incidents within 72 hours to the statewide Overdose Information Network. My colleagues and I this past week approved SB 1152 and sent it to the House of Representatives for consideration.
I may come from rural Pennsylvania, but I also worked in Philadelphia and I worked 16 years in the Department of Corrections, and this cuts across all boundaries, and I have to say that what Doug is proposing is the right way to do things. We have to make sure the people who are dealing in this death are held accountable, but we also have to have compassion and offer hope to those who are addicts.
During the rally, the stories told by those touched by addiction were so impactful.
Jefferson County District Attorney Jeff Burkett and Kara Kennemuth, executive director of Women at the Well Ministries, a nonprofit, faith-based program for women battling addiction, spoke about the importance of the faith-based approach to addiction. It's remarkable what Almighty God can do.
We need to stand together to do everything we can to save the lives that are being taken by these poisons.
Celebrating William Penn and His Vision for Pennsylvania
On July 1, I joined state Rep. Dave Zimmerman (R-99) and others to honor and celebrate the vision William Penn had for Pennsylvania with a proclamation signing ceremony.
Penn's "Holy Experiment" focused on the goal of achieving freedom of religion and conscience, for everyone, everywhere, and protecting it in law and encouraging everyone to value that freedom.
He embarked on a form of successful government organized of the people, with them choosing from their own population individuals – known for their wisdom, virtue and ability – to meet and act as the government.
When King Charles II of England granted Penn his Royal Charter in 1681, it seemed like he had three objectives: to pay off his debt to Penn's father; getting Penn, who Charles considered a troublemaker, out of England; and to provide Penn such expansive power with the hope Penn would abuse it giving Charles a reason to take action against Penn and reclaim for the crown the lands granted to Penn.
Far from that, Penn gave all his granted authority – which some say was equal to the power King Charles had over his subjects in England – to the inhabitants of his territory (a great description of this is found in the opening "Historical Introduction" of the book Commentaries on the Constitution of Pennsylvania).
The government Penn created in Pennsylvania has been a model for the United States and other nations. The importance of faith and God is ensconced within his first, in 1682, and subsequent Frames of Government that would greatly influence the Pennsylvania Constitutional Convention of 1776 and the contents of the 1776 Constitution of the Commonwealth of Pennsylvania, which was one of the state constitutions used as a model for the United States Constitution, written in 1787, ratified in 1788 and which became effective in 1789.
The people of Pennsylvania have chosen to acknowledge in this state Almighty God in the preamble of our Constitution – he is first in our Constitution; he is not unconstitutional.
William Penn knew if there was no cross, there would be no crown.
Much is owed to William Penn and "the seed of a nation" he helped to plant in Pennsylvania.
We are blessed to have been born here or raised here or live here. Let us honor that blessing.
You can watch the full event here.
Bills to Limit Exposure of Sexually Explicit Content in PA Schools Passed by Senate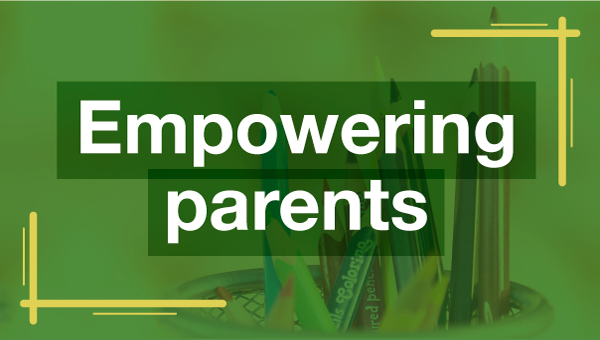 Two bills that would give parents a voice in discussions of gender identity and sexual orientation in Pennsylvania schools were approved by the Senate.
Senate Bill 1277 would require districts to identify sexually explicit content in school curriculum and materials and notify parents that their child's coursework includes such content. Senate Bill 1278 would prohibit classroom instruction on gender identity and sexual orientation for pre-kindergarten through fifth-grade students, consistent with the timeline for when the existing academic standards on general sex education begins in sixth grade.
The proposals are in response to concerns of parents that age-inappropriate conversations about these sensitive topics are occurring prematurely and without parental knowledge in school classrooms around the state.
Clarification about what Senate Bill 1278 does and does not do is available here. You can review blurred examples of situations that parents have reported from classrooms around the state here.
Teachers trying to normalize something that parents find objectionable and not falling within cultural norms during the time our nation has been in existence is an issue. These bills seek to put a stop to the indoctrination of children by those who are supposed to be educating them, and allow parents to be parents, making it clear government does not own our children.
Senate Votes to Protect Sports for PA Women and Girls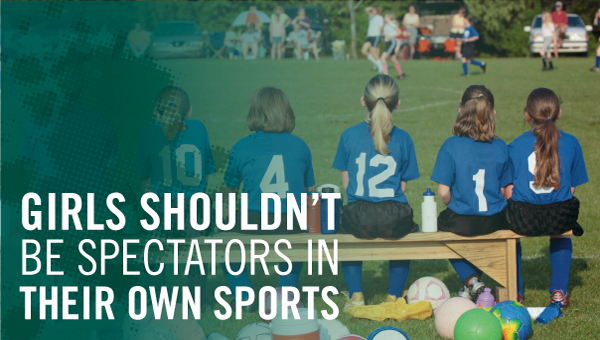 The Senate gave final approval of legislation that protects the integrity of women's sports. The measure was sent to the governor to be signed into law.
House Bill 972, the Fairness in Women's Sports Act, ensures that biological males can't compete on school athletic teams designated for women and girls. The bill also provides legal recourse for students harmed when schools and colleges violate the proposed law.
June 23 marked the 50th anniversary of enactment of Title IX, which guaranteed girls and women equal access to scholastic sports. Recently, more than a dozen states have passed legislation similar to House Bill 972 after women's sports organizations were pressured to allow biological males to compete on their teams.
Bill to Improve Medical Care for Patients Approved by Senate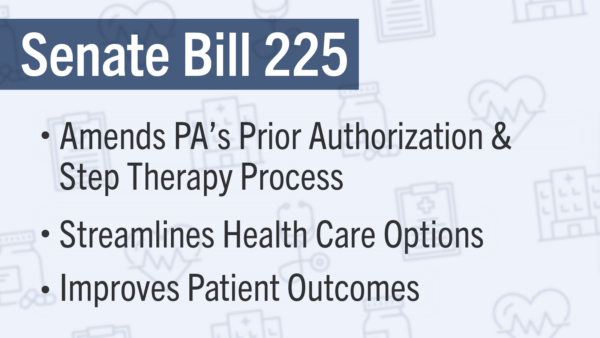 The Senate voted to improve the health care experience for patients by streamlining the prior authorization and step therapy processes for medical treatment. The bill goes to the House of Representatives for consideration.
Prior authorization means that, to qualify for payment, physicians and other health care providers must obtain advance approval from a health plan before a specific procedure or service. Step therapy requires patients to try prescription drug treatment options chosen by the patient's insurance provider.
Senate Bill 225 would set standards for commercial insurance plans, as well as Medicaid plans, when seeking prior authorization approval and with step therapy protocols. The legislation would also provide a timely process for appeals determinations.
A recent American Medical Association survey found that prior authorization delays overwhelmingly result in patients forgoing treatment, leading to negative clinical impacts.
Legislation Boosting Safety of Child Care Facilities Set for Enactment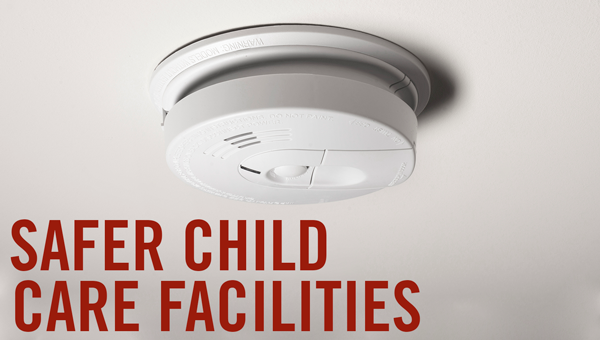 Legislation to improve safety in state-regulated child care facilities was approved by the Senate and is set to be signed into law.
Senate Bill 563 was introduced in response to a tragic fire that claimed the lives of five young children in Erie in 2019. Only one smoke detector was found in the care home, and it was in the attic.
The measure designates the locations where smoke alarms must be installed in child care facilities and require the alarms be interconnected so that if one is triggered, they all go off.
Increased Penalties for Hiring Unauthorized Workers Approved by Senate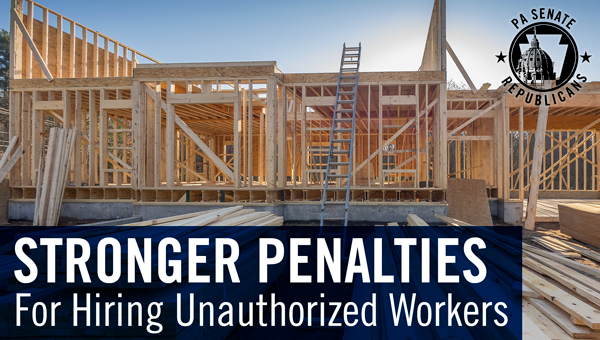 A bill to improve enforcement of the construction industry's use of the federal E-Verify system was approved by the Senate and sent to the House of Representatives for consideration.
The federal E-Verify system determines the eligibility of employees – both U.S. and foreign citizens – to work in America. The Public Works Employment Verification Act already requires all public construction contractors and subcontractors to use E-Verify to confirm the legal employment eligibility of new hires. However, despite these requirements, the practice of hiring unauthorized workers continues due to the enforcement mechanisms being weak.
Senate Bill 1147 would make the financial penalties more meaningful. Rather than the current penalty of $250 – $1,000, violators would face a fine of $2,500 – $25,000. Senate Bill 1147 streamlines enforcement and reduces the need for time-consuming audits by requiring construction contractors to be enrolled in E-Verify upfront and makes it a punishable offense if they are not.
Local Government Bills to Become Law
This week the Senate unanimously concurred on Senate Bill 477, which was amended in the House.
SB 477 passed out of the Senate Local Government Committee last year. It amends the Consolidated County Assessment Law to further define changes to real property that would require notice to the county assessment office, establish procedures for notice submission, and allow penalties for noncompliance.
The House amended the bill to include all the provisions of House Bill 1877, which the Senate Local Government Committee passed unanimously in January, to consolidate and modernize all law relating to a change in municipal boundaries other than those resulting from a municipal merger or consolidation.
Both measures were products of the Local Government Commission, and the amended bill now awaits the governor's signature.
PA's Farmers Market Nutrition Program Provide Seniors, Families Access to Fresh, Local Produce
It's summer and the bounty of Pennsylvania's farms and agricultural sector are becoming available, particularly at our community farmers markets and local farm stands.
That's why I'd like to remind readers of this newsletter that Pennsylvania's low-income seniors and Women, Infants, and Children (WIC) program recipients can obtain and use their vouchers from the Pennsylvania Farmers Market Nutrition Program (FMNP) to purchase fresh and local fruits, vegetables, and herbs from FMNP-approved farmers at farmers markets and farm stands across the commonwealth.
The vouchers are made available from June through September, and they are distributed by WIC clinics and Area Agencies on Aging. The value of vouchers redeemed through the FMNP program and dollars directly supporting Pennsylvania farmers who participate in the program are more than $3 million annually.
More information about the FMNP, including how to apply, can be found here.
Have a Happy Independence Day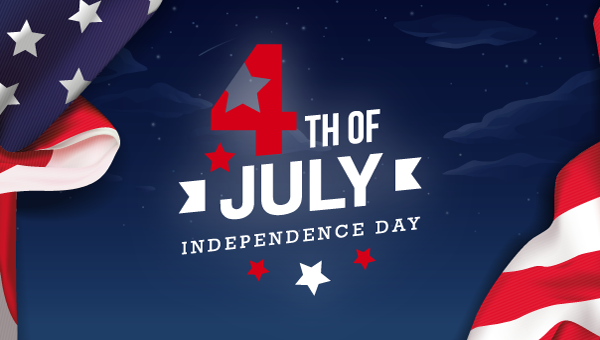 I hope you have the opportunity to enjoy a great Independence Day holiday with friends and family as we remember the reasons outlined in the Declaration of Independence for our break from British rule and celebrate the birth of our great nation. America remains the best hope for freedom and liberty on Earth.