In this Update:
Grant Will Improve McKean County Broadband Access
Revenue Department Extends Call Center Hours for Tax Season
Winter Utility Disconnection Moratorium Ends March 31
Adult Education Grants Available
Applications Now Being Accepted for PA's Pennsylvania's Covid 19 Emergency Medical Service Grant Program
Clinton County AED Survey
Saturday is Mentored Youth Trout Day
Vietnam War Veterans Day March 29
Open House at Northern Pennsylvania Regional College on April 19
---
Grant Will Improve McKean County Broadband Access
A more than $530,000 grant has been awarded by the Commonwealth Financing Authority for a project to improve broadband access in McKean County.
Broadband developer SkyPacket Networks Inc. received the $530,248 Unserved High-speed Broadband Funding grant to install two new 120-foot monopole/towers to expand its offering of fixed wireless broadband service in McKean County's Hamlin, Keating and Sergeant townships. The total project cost is $706,998, with SkyPacket committing $176,750.
Rural and remote locations in McKean County lack broadband service at a time when reliable internet connectivity has become essential.
An unserved area is defined as a designated geographic area in which households or businesses do not have access to at least 25 megabits per second (Mbps) downstream speeds and 3 Mbps upstream speeds.
It is estimated the new service, that will offer at least 25 Mbps download/3 Mbps upload with a maximum of 100 Mbps download/20 Mbps upload, will be provided to approximately 212 residential and 4 business structures.
Improved access to high-speed internet service will help retain the jobs at the existing businesses and make the area more appealing for future development. Additionally, the pandemic has shown us the importance of people being able to function from home, whether it be work-related, school-related or just social interaction and entertainment – it all increases the importance of having broadband access.
The Unserved High-speed Broadband Funding Program was made possible by Act 132 of 2020, formerly Senate Bill 835, and is administered by the CFA. The program provides grants to deploy middle-mile and last-mile high-speed broadband infrastructure to unserved areas in Pennsylvania.
Revenue Department Extends Call Center Hours for Tax Season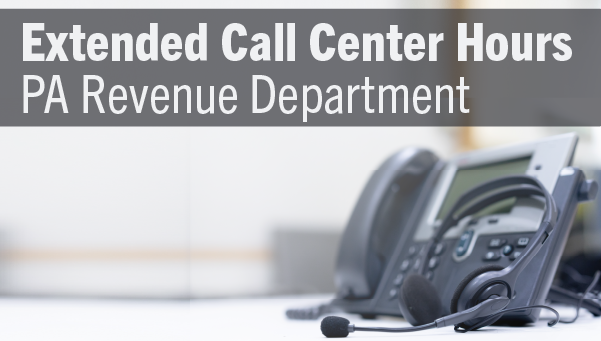 With the April 18 tax filing deadline approaching, the Pennsylvania Department of Revenue is extending its customer service hours for taxpayers to get help by phone.
Personal income tax assistance will be available between 8 a.m. and 7 p.m., Monday through Friday, by calling 717-787-8201.
Personal income tax assistance is also available through the department's Online Customer Service Center. It contains answers to hundreds of common income tax questions and allows taxpayers to securely submit a question to the department through a process that is similar to sending an email. Department of Revenue district offices are also open to provide customer service. Taxpayers are encouraged to call ahead to schedule an appointment.
Winter Utility Disconnection Moratorium Ends March 31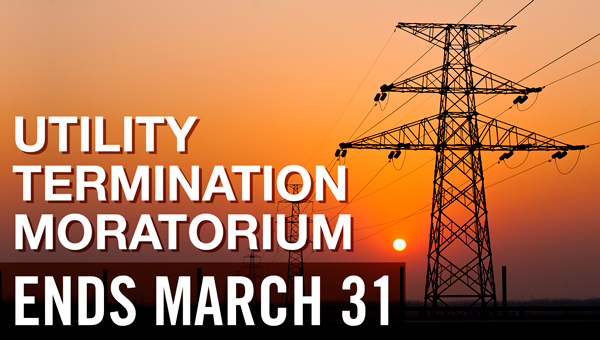 Reminder to residential electricity customers: the winter utility disconnection moratorium will end March 31, meaning on April 1 shut-offs for nonpayment of bills will resume.
Between Dec. 1 and March 31, Pennsylvania has special rules for winter utility terminations for income-qualified households served by utilities regulated by the Public Utility Commission (PUC). During this seasonal termination moratorium, eligible households cannot have electric, natural gas or heat-related water service turned off for non-payment unless the utility receives permission from the PUC.
According to the PUC, the best action any at-risk consumer can take right now is to call their utility's customer service hotline and ask for information about their customer assistance programs designed to make energy bills more affordable.
Adult Education Grants Available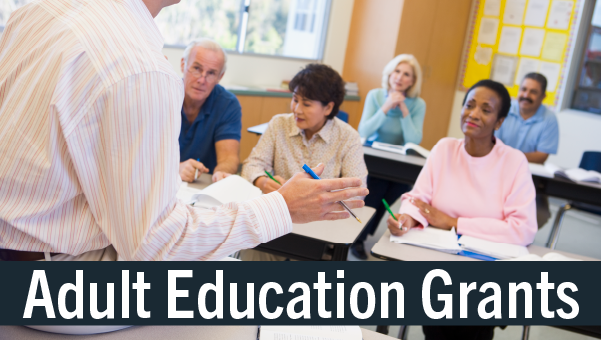 Grant funding to support lifelong learning is now available through the Pennsylvania Department of Education (PDE) Adult Basic Education Direct Service grant competition. A total of $23 million is available during this round of the grant competition – applications must be submitted by Thursday, April 7, 2022 at 2 p.m.
The grants are awarded to local adult education programs to provide free adult education and literacy activities to help adults, including English language learners, improve their reading, writing, speaking, comprehension, and mathematics skills; earn a high school equivalency credential; and develop the knowledge and skills for employment and economic self-sufficiency.
Applicants may apply for funding up to a maximum of $2,250 per contracted student, with the total requested not to exceed the amount allocated to the proposed service area. PDE strongly encourages applicants requesting the maximum allowable cost per student to prioritize the use of funds for full-time direct service staff positions with benefits.
For more information, applicants may review the Adult Basic Education Direct Service RGA Guidelines, watch the Adult Basic Education Direct Service Grant Competition Information Webinar and access the Frequently Asked Questions.
Applications Now Being Accepted for PA's Pennsylvania's Covid 19 Emergency Medical Service Grant Program
EMS agencies duly licensed by the Commonwealth, including their individual licensee affiliates, can now apply for grant funding through Pennsylvania's Covid 19 Emergency Medical Service Grant (CEMS) Program. The program will close on April 10, so applicants are urged to avoid waiting until the last minute to apply.
Eligible recipients include agencies identified as the primary 911 responder or serve as interfacility transport agencies. Agencies that solely provide quick response service (QRS) are not eligible for grant funding pursuant to Act 10 of 2022. All the eligible applicants have been compiled, by county, HERE by the Office of State Fire Commissioner (OSFC).
Applicants will need a Keystone ID, DUNS number and a Commonwealth Vendor Number (this is the same information that was required of applicants for year's supplemental grant program).
Eligible EMS agencies have been provided with the Certification Portal link and access code.
The Certification Portal is currently open and will close on April 10, 2022. EMS agencies will not receive a grant if they fail to certify by April 10, 2022. For help with the certification process, Grant Certification Walkthrough Instructions.
And for more about the grant program, the OSFC has prepared a fact sheet.
Clinton County AED Survey
Clinton County businesses that have an Automated External Defibrillator (AED) on site are asked to participate in a survey being conducted by the County Department of Emergency Services.
The survey data will be used to "pin" AED locations on the map feature of the 9-1-1 Center's Computer Aided Dispatch software. This information will give 9-1-1 Dispatchers the ability to direct callers/bystanders to a nearby AED if they receive an emergency call that warrants the use of one.
To participate in the survey, email Hannah Park at hpark@clintoncountypa.gov.
Saturday is Mentored Youth Fishing Day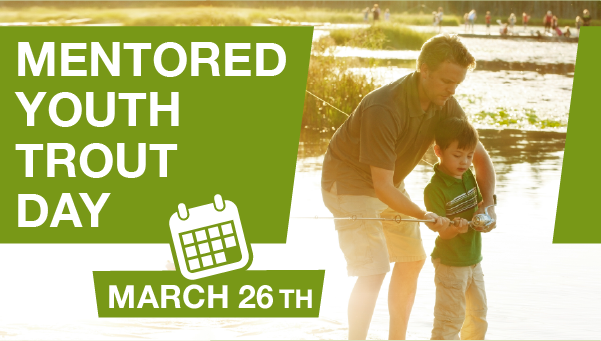 Saturday, March 26, is Mentored Youth Trout Fishing Day across Pennsylvania, an opportunity for young anglers and their adult mentors to fish for trout prior to opening day of the season.
Youth anglers must obtain a Mentored Youth Permit or a Voluntary Youth Fishing License and be accompanied by a licensed adult angler to participate. Adult anglers (age 16 or older) must possess a valid Pennsylvania Fishing License and a current Trout/Salmon Permit.
Unlike previous years with regional and statewide days, there is now only one, statewide Mentored Youth Fishing Day and one, statewide Trout Opening Day (April 2).
If you are one who loves fishing I would encourage you to find a young person who could use a little time outside of their electronic boxes and get these young people into the PA Great Outdoors.
Vietnam War Veterans Day March 29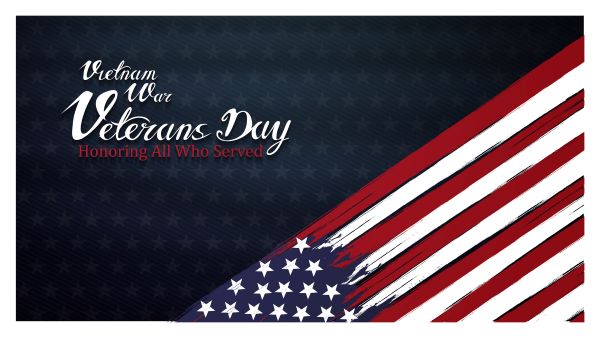 On March 29, 1973, U.S. combat and combat support units began to withdraw from South Vietnam.
It marked the beginning of the end of a conflict that cost the lives of more than 58,000 Americans. Returning veterans did not receive the welcome they deserved, and many dealt with the effects of war alone. National Vietnam War Veterans Day was established in 2017 for us to express our heartfelt admiration and to pay these veterans the respect they earned.
Open House at Northern Pennsylvania Regional College on April 19
CLICK HERE to learn more about, as well as sign up for, the event.