In this Update:
Open House for New Bellefonte District Office on Feb. 17
Titan Energy Park Tour
Report Tracks College Savings Accounts in Rural and Urban Counties
How to File PA Income Tax Returns Online
Federal Fire, EMS Grant Program Closes Feb. 10
Grant Funding Available for Regional Recovery Hubs
Educational Gratuity Program Helps Children of Fallen Military Members
Feb. 8 Webinar Regarding Federal Transportation Resources
Brockway (Jefferson County) Citizens of the Year
Entries Accepted for Statewide "Art of the State" Exhibition
Watch PA Wildlife Anytime from Home
---
Open House for New Bellefonte District Office on Feb. 17
I will be holding an open house for my new Bellefonte district office on Friday, Feb. 17 from 3 p.m. to 7 p.m.
The office is located at 301 North Spring Street, Bellefonte, PA 16823. The office phone number is (814) 355-0477 and the office Fax number is (814) 355-6046.
So, if you have some time on Feb. 17, I'd love to meet you at the Bellefonte office.
Titan Energy Park Tour
Last week, I had the opportunity to take a tour of Titan Energy Park in Bellefonte, Centre County.
This brownfield – which was previously occupied by facilities that manufactured metal rod and wire, as well as low melting-point alloys, before the manufacturing companies shut down operations at the site – is being revitalized.
On Jan. 1, 2014, the Titan Energy Park site was designated a Keystone Opportunity Expansion Zone (KOEZ) by the Pennsylvania Department of Community and Economic Development. The KOEZ program provides certain tax benefits to businesses which locate in the KOEZ.
Many thanks to Joe Leahy, with Centre County general contractor GM McCrossin, for giving me a tour of the facility.
The pictures above were taken in Titan Energy Park's Axemann Brewery and Titan Hollow (home to Alloy Kitchen, Mad McIntosh Cider, Witches' Hollow Winery and Titan Events), but the facilities also host many other vendors.
Report Tracks College Savings Accounts in Rural and Urban Counties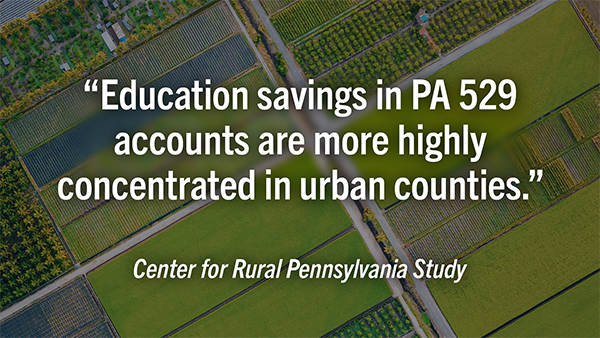 A new report from the Center for Rural Pennsylvania and the Pennsylvania Treasury Department evaluated trends in post-secondary education savings accounts, also known as PA 529 accounts.
PA Treasury offers two PA 529 plans: the PA 529 Guaranteed Savings Plan (GSP), which allows families to save at today's tuition rates to meet tomorrow's tuition costs, and the PA 529 Investment Plan (IP), which offers a variety of investment options.
The report examined differences between rural and urban Pennsylvania beneficiaries in the amount of savings, consistency of contributions and types of accounts opened. Key findings:
Education savings in PA 529 accounts are more highly concentrated in urban counties.
More than 60% of all contributions in PA 529 accounts between January 2018 and March 2022 went to Investment Plan accounts in urban counties.
A sharp increase in contribution amounts occurred in the third and fourth quarters of 2021, with Investment Plan contributions rising more than 30% from inflation-adjusted prior-year values.
Rural beneficiaries received an average $56 less per quarter than their urban counterparts – even after controlling for income, education and age.
The Treasury Department is increasing rural outreach to promote college savings. You can watch a discussion of the findings here.
How to File PA Income Tax Returns Online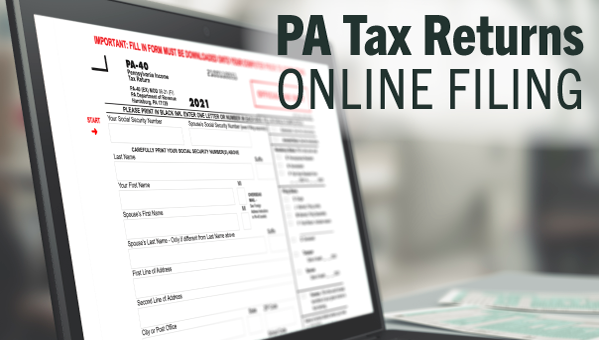 Tax-filing season has opened, and the state Department of Revenue reminds taxpayers of the free online option to file their Pennsylvania personal income tax returns: mypath.pa.gov.
Taxpayers do not need to create a username or password to perform many functions in myPATH. That includes filing the Pennsylvania Personal Income Tax Return (PA-40), making a payment, responding to department requests for information and checking the status of a refund.
The deadline to submit 2022 personal income tax returns is April 18. Personal income tax assistance is also available through the department's Online Customer Service Center and by calling 717-787-8201 between 8:30 a.m. and 5 p.m., Monday through Friday. Taxpayers may also visit a Department of Revenue district office for state personal income tax filing assistance.
Federal Fire, EMS Grant Program Closes Feb. 10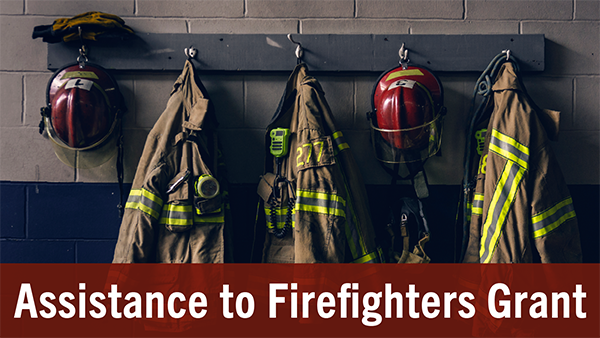 Fire departments and non-affiliated EMS organizations have until Feb. 10 to apply for federal grants for equipment, protective gear, emergency vehicles, training and other resources.
Administered by the Federal Emergency Management Agency, the Assistance to Firefighters Grants Program helps firefighters and other first responders obtain critically needed resources necessary for protecting the public and emergency personnel from fire and related hazards.
Fire and EMS organizations can find an application checklist, a rundown of recent program changes, Frequently Asked Questions, videos and more here.
Grant Funding Available for Regional Recovery Hubs
More than $4 million in grant funding is now available through the Pennsylvania Department of Drug and Alcohol Programs (DDAP) for the establishment of regional recovery hubs to enhance recovery supports and promote recovery within communities across the commonwealth.
The nine regional recovery hubs throughout Pennsylvania will be designed to work to embed, expand and promote a Recovery-Oriented System of Care in each region using a hub and spoke model. Each regional "hub" will support community-driven services that will serve as "spokes." The plan is for each hub to provide technical assistance and collaborate with a variety of community entities, sectors and systems with the goal of enhancing a recovery-supportive community and facilitating recovery support service delivery.
Nine grants (one for each of the nine regions) of up to $500,000 each will be awarded for a 15-month period beginning July 1, 2023 through Sept. 29, 2024.
Completed applications must be submitted via email to RA-DAGrantsMgmt@pa.gov by noon on Friday, Feb. 24.
More information on the grants and the application process can be found on the DDAP website or directed to RA-DAGrantsMgmt@pa.gov.
Educational Gratuity Program Helps Children of Fallen Military Members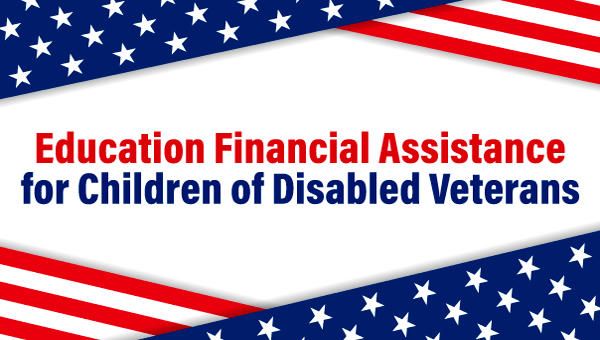 We owe a debt of gratitude to Pennsylvanians who served in the military, especially those disabled or killed during conflict. Part of paying that debt is helping to care for the impacted families.
The Educational Gratuity Program provides education financial assistance for children of honorably discharged veterans with service-connected disabilities who served during war or armed conflict, or children of veterans who died during war or armed conflict.
Children of eligible veterans must be between the ages of 16 and 23, living in Pennsylvania five years prior to application and attend a school within the commonwealth. You can read more about eligibility and applying here.
Feb. 8 Webinar Regarding Federal Transportation Resources
The U.S. Department of Transportation (USDOT) will hold, on Feb. 8 at 3 p.m., a webinar to highlight resources available to help potential grant applicants navigate funding opportunities.
During this webinar, USDOT staff will dig into some of the tools available on the DOT Navigator – the department's one-stop shop for technical assistance, including the upcoming funding opportunity calendar, tools for identifying Federal disadvantaged community areas and which programs provide non-Federal match flexibility. The session will also spotlight several funding opportunities at USDOT that are currently accepting applications to expand transportation opportunities to urban, rural, and Tribal communities.
You can register for this webinar here.
Brockway (Jefferson County) Citizens of the Year
Last week, state Rep. Brian Smith (R-66) and I were honored to present citations to Brockway's Citizens of the Year, R. Leo Ferraro and Kathleen Britton.
The first such banquet was held in 1988 to recognize two individuals for their devotion and service to home, church and community. Unfortunately, due to COVID-19, the banquet and ceremony had been canceled the past three years. The return to honoring these individuals took place the evening of Jan. 28 at Brockway High School.
You can read all about the special qualities of Leo and Kathleen in a story written by the Courier Express.
The recognition both received is richly deserved and affirms that these two individuals are shining examples of community spirit. Their many contributions are worthy of deep gratitude and respect.
Entries Accepted for Statewide "Art of the State" Exhibition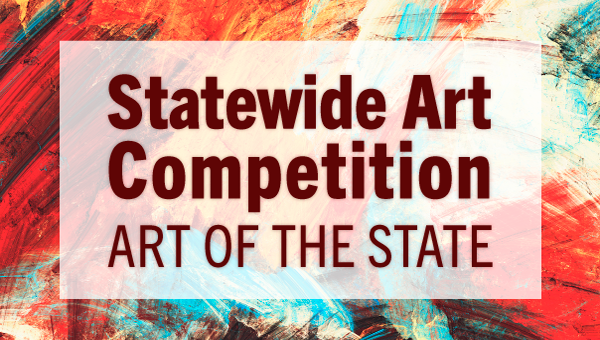 Artists and craftspeople are invited to submit applications to show their work in the 56th annual "Art of the State" exhibition.
"Art of the State" is a juried exhibition open to Pennsylvania residents at least 18 years of age. Artists will compete in five categories: painting, work on paper, sculpture, craft, and photography and digital media. Entries must be submitted online. Additional information and the link to enter are available at statemuseumpa.org/artofthestate. The application deadline is May 5.
More than $4,000 in cash awards will be presented. "Art of the State" is scheduled to open to the public at The State Museum on Sept. 10.
Watch PA Wildlife Anytime from Home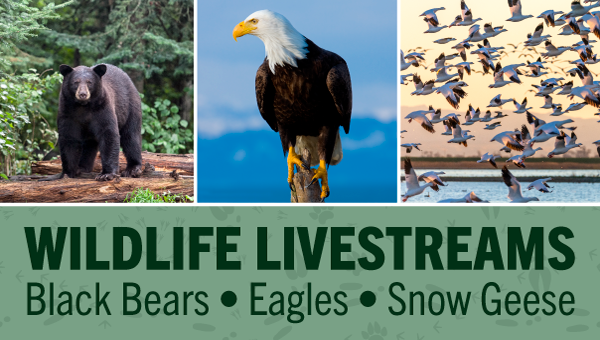 You can watch black bears, eagles and snow geese this winter through the Pennsylvania Game Commission's round-the-clock livestreams.
A new 24-7 livestream from a black bear den in Pike County brings to four the number of livestreams the Game Commission plans to run into the spring of 2023. Also showing are the Farm Country Eagle Livestream, which provides a bird's-eye view into a long-established nest in a giant sycamore overlooking scenic farmland, the popular Hanover, Pa. Eagle Livestream and the agency's Snow Goose Livestream capturing the migratory action at Middle Creek Wildlife Management Area.
Pennsylvania's black bears usually are born in January and begin walking in about eight weeks. They leave the den when three months old. Bald eagles typically lay eggs in mid-February and the eggs hatch in mid- to late March. Snow goose migration typically peaks at Middle Creek from mid-February to March.

For anyone who hasn't already signed up to receive my mission reports, you can get on the e-newsletter mailing list here.